Title: Lola & The Boy Next Door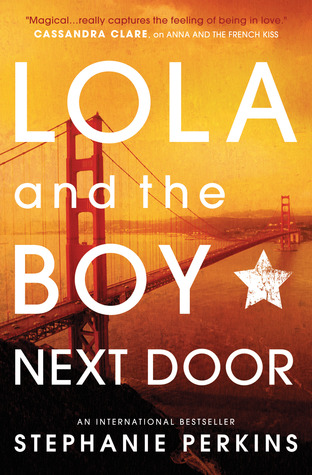 Author: Stephanie Perkins
Pages: 384 (according to goodreads, my edition has 245 pages (that's weird..))
What is it about?
Lola Nolan is a budding costume designer, and for her, the more outrageous, sparkly, and fun the outfit, the better. And everything is pretty perfect in her life (right down to her hot rocker boyfriend) until the Bell twins, Calliope and Cricket, return to the neighbourhood. When Cricket, a gifted inventor, steps out from his twin sister's shadow and back into Lola's life, she must finally reconcile a lifetime of feelings for the boy next door.
Overall rating ★★★
Story line ★★★
This is one of those books I can read in one day, it's fluffy, it's romantic, it's simple. The story is about Lola, who has a boyfriend Max and when Cricket returns her life is changed. The storyline is not very original, because from the moment Cricket enters, you know things are about to happen and you know who she is going to end up with eventually. That's why I found it getting annoying that Lola was unable to make up her mind about who she wanted. It took so long!
Characters ★★★
I found that the characters were slightly overdone. They were a little over-the-top, especially Lola. I just could not relate to her in many ways. My favourite character was of course Cricket, the smart, awkward but sexy neighbour. However I enjoyed this book and the characters, I liked Anna & The French Kiss just a little more. To me the setting and the characters were more to my taste.
Writing style ★★★
The conversations were really lively and reflected the personalities of the characters really well. It's well written and the writing really made the characters come alive.
Giveaway message
For me this was definitely a 3-star book. It is not my favourite type of book, as you might have noticed but I love to read these types of books every once in a while. It's a fun summer read but does not have many original aspects. Except for the gay parents, I really like that element! For lovers of romantic contemporary books I would definitely recommend this book. It is one of the better books of that genre that are out there.
Quotes:
"I know you aren't perfect. But it's a person's imperfections that make them perfect for someone else."
"Just because something isn't practical doesn't mean it's not worth creating. Sometimes beauty and real-life magic are enough."
"Perfect is overrated. Perfect is boring."
I smile. "You don't think I'm perfect?"
"No. You're delightfully screwy, and I wouldn't have you any other way."
Let me know what you thought of this book!