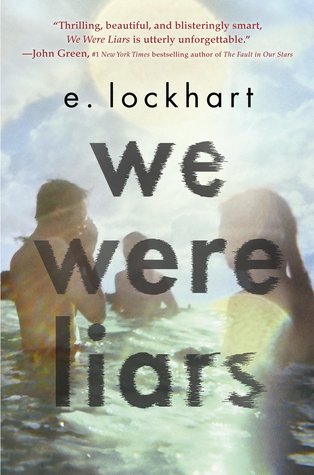 Title: We Were Liars
Author: E. Lockhart
Pages: 225
What is it about?
A beautiful and distinguished family.
A private island.
A brilliant, damaged girl; a passionate, political boy.
A group of four friends—the Liars—whose friendship turns destructive.
A revolution. An accident. A secret.
Lies upon lies.
True love.
The truth.
We Were Liars is a modern, sophisticated suspense novel from National Book Award finalist and Printz Award honoree E. Lockhart.
Read it.
And if anyone asks you how it ends, just LIE.
Overall rating ★★★
Story line ★★★★
The story is suspenseful and leaves you with a lot of questions. The story is about Cady, who has amnesia caused by an incident two years ago. As each year she goes to her family in the summer, they have a private island. During the story you get to know about her three friends, her family and her love for Gat. Not everything is as good as it seems. The story is good, interesting and is easy to read.
Characters ★★★
There were a little too many characters to keep track of it all, the family consists of about twenty people (and dogs) I think and to remember all of their names and match them to the person is hard. I did not even try hard, because I am bad at it. I can't even remember the name of one of the characters of the book I'm reading right now. Anyway. I did like Cady and I think she was a good-written character, that develops throughout the book.
Writing style ★★
The writing style used by Lockhart, was very confusing. She uses short sentences mainly, which is not a problem. But the thing is, she writes very figuratively, I mean, in the first few pages Cady describes her dad leaving. And she writes something like "He shot me in the chest", and I was so confused. I did not realize that she meant it figuratively and had to take a minute to get what really happened and that Cady was not deadly wounded. It takes a while to get into but I still don't really like it.
Giveaway message
It's a good book, it is mysterious and you really want to know what happened. However, when you know the ending you wish it were different. I really did not see the ending coming and I still don't get it really, so if someone wants to explain it to me, please do. This is a good book is you like suspenseful, contemporary books.
Quotes
"Can I hold your hand?" he asked. I put mine in his.
"The universe is seeming really huge right now," he told me. "I need something to hold on to."
"I'm here.
"Be a little kinder than you have to."
"We are liars. We are beautiful and privileged. We are cracked and broken."