I went to the library. Not such a good idea when you promised yourself to finish Persuasion by the end of the week and have lots of homework to do. But I did it anyway. I planned only to get one, maybe two, books, but I just couldn't leave these pretty books there!
The four books I got are:
The Distance from Me to You by Marina Gessner 
The story sounds really cool and cute. The beginning of the blurb almost made me put it back on the shelves but the rest made up for it.
"McKenna Berney is a lucky girl. She has a loving family and has been accepted to college for the fall. But McKenna has a different goal in mind: much to the chagrin of her parents, she defers her college acceptance to hike the Appalachian Trail from Maine to Georgia with her best friend. And when her friend backs out, McKenna is determined to go through with the dangerous trip on her own. While on the Trail, she meets Sam. Having skipped out on an abusive dad and quit school, Sam has found a brief respite on the Trail, where everyone's a drifter, at least temporarily.
Despite lives headed in opposite directions, McKenna and Sam fall in love on an emotionally charged journey of dizzying highs and devastating lows. When their punch-drunk love leads them off the trail, McKenna has to persevere in a way she never thought possible to beat the odds or risk both their lives."
Everything, Everything by Nicola Yoon
I did not every recognize this book, in Dutch the title is (direct translation) "All You Hold Dear" and the cover is really different too. But when I started reading the blurb, I immediately recognized it. I have had this book on my goodreads tbr ever since it came out and I am really looking forward to reading it. Also, there's a movie coming out soon!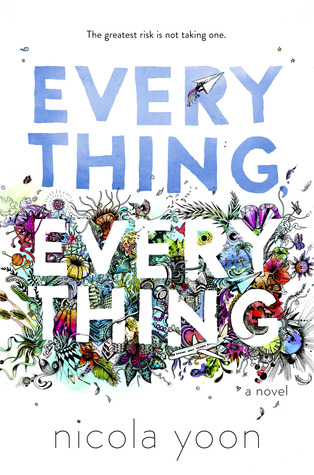 "My disease is as rare as it is famous. Basically, I'm allergic to the world. I don't leave my house, have not left my house in seventeen years. The only people I ever see are my mom and my nurse, Carla.
But then one day, a moving truck arrives next door. I look out my window, and I see him. He's tall, lean and wearing all black—black T-shirt, black jeans, black sneakers, and a black knit cap that covers his hair completely. He catches me looking and stares at me. I stare right back. His name is Olly.
Maybe we can't predict the future, but we can predict some things. For example, I am certainly going to fall in love with Olly. It's almost certainly going to be a disaster."
Things We Know by Heart by Jessi Kirby
I already have my doubts about this book, because of the whole "dead boyfriend"-thing but I will give it a go anyway. I really like the organ donation theme. 
"When Quinn Sullivan meets the recipient of her boyfriend's donated heart, the two form an unexpected connection.
After Quinn loses her boyfriend, Trent, in an accident their junior year, she reaches out to the recipients of his donated organs in hopes of picking up the pieces of her now-unrecognizable life. She hears back from some of them, but the person who received Trent's heart has remained silent. The essence of a person, she has always believed, is in the heart. If she finds Trent's, then maybe she can have peace once and for all.
Risking everything in order to finally lay her memories to rest, Quinn goes outside the system to track down nineteen-year-old Colton Thomas—a guy whose life has been forever changed by this priceless gift. But what starts as an accidental run-in quickly develops into more, sparking an undeniable attraction. She doesn't want to give in to it—especially since he has no idea how they're connected—but their time together has made Quinn feel alive again. No matter how hard she's falling for Colton, each beat of his heart reminds her of all she's lost…and all that remains at stake."
Amy and Roger's Epic Detour by Morgan Matson
I read this book like five years ago and I don't remember much about it. But I've been dying to read another Morgan Matson book and I have heard so much about this book lately that I thought, why not read it again? Fun fact: in Dutch, Roger is called Jake.
"Amy Curry is not looking forward to her summer. Her mother decided to move across the country and now it's Amy's responsibility to get their car from California to Connecticut. The only problem is, since her father died in a car accident, she isn't ready to get behind the wheel. Enter Roger. An old family friend, he also has to make the cross-country trip – and has plenty of baggage of his own. The road home may be unfamiliar – especially with their friendship venturing into uncharted territory – but together, Amy and Roger will figure out how to map their way."
Do you go to the library often? And do you also have the same problem that when you do you come home with a big pile of books?