This is a meme I just discovered about fifteen minutes ago. But I love doing Top Ten Tuesdays, and I love doing weekly things, so I thought why not? WWW Wednesday is hosted by Taking on A World of Words. It consists of three questions:
What are you currently reading?
What did you recently finish reading?
What do you think you'll read next?
What I am currently readin
g
I am reading The Distance from Me to You by Marina Gessner. I am only 48 pages in and I  really like it so far. The story is about a girl who wants to hike the Appalachian Trail (which is 3500 km long) with her friend, but when her friends cancels, she decides to do it alone.
I am also reading Persuasion by Jane Austen, for the Austentations book club. I am a little over 1/4th in, but I am progressing slowly. I had to start over after reading two chapters because I was distracted all the time. I am listening to the audiobook while reading the ebook, so it doesn't go
very fast.
Normally I don't read 3 books at the same time, but the last book I am reading I put on a pause. The book is Extremely Loud & Incredibly Close by Jonathan Safran Foer. I have read this book so many times that I can just jump in at any page I want and understand completely what is happening.
What I recently finished reading
Everything, Everything by Nicola Yoon,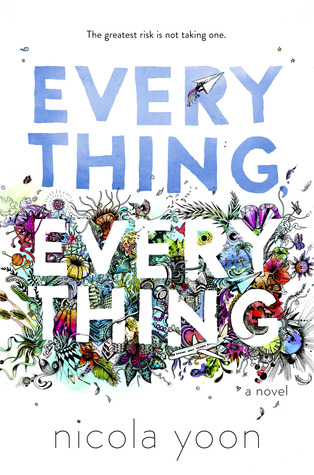 and I finished it in one night. You fly through it and I loved it. It is about a girl with a very severe condition, she is practically allergic to everything and hasn't been outside for 17 years. But then she gets new neighbors with a very handsome son (you can probably predict where this ends).
What I will read next
I think I will read Amy and Roger's Epic Detour by Morgan Matson. As you might have noticed, I am having a very
contemporary week. Lots of contemporary books! I don't read contemporary a lot but for some reason I really feel like reading contemporary
(also it is often very easy and quick to read.
What are you reading?