Everything, Everything by Nicola Yoon ★★★★★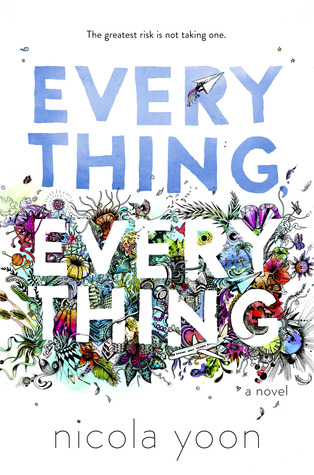 This is the story of Madeline, a girl who hasn't been outside in 17 years. She is sick, she has SCID, which means that if she would go outside, it would probably mean she would die. But then one day a new family moves in to the house next to her, and she falls in love with Olly, the boy from next door.
When I read the blurb I was immediately captivated. I once wrote a short story about a young girl that has never been outside, and then she finds a door and sneaks out and becomes friends with the animals in the forest. I don't think I even have the story anymore, but the book reminded me about it. Which also reminded me about how bad my writing was. Anyway, here are five things I loved about Everything, Everything.
Diversity
I love that the book has diverse characters. There are only four main characters, Olly, Madeline, her mom and her nurse, and three out of these four characters are not white. Madeline is Asian/Afro-American, her mother is Asian(?) and her nurse is Mexican.
Opposites
I love that Madeline and Olly are opposites in many things. Madeline hasn't been outside in 17 years, while Olly is as comfortable as you can imagine outside. He climbs, runs, jumps around like it is the most natural thing in the world. Madeline is white, Olly is black (in clothing not in skin tone). And their skin tones are reversed. Madeline has a great relationship with her mom, Olly a horrible one with his dad.
Notes and drawings
I always love to read a book that has notes and drawings in it, it makes you more involved in reading the book. The book reviews were awesome! Madeline writes super short reviews that contain the lesson she learned from it, and during the book the lessons change. She learns. Spoiler alert: living is not just being alive.
Struggle
Of course this book is about love, and I think you could almost call it insta love, but it is also about so much more. The book is about growing up, about abuse, about depression, about loneliness, about betrayal, about disease, about living.
Psych things
There is this certain thing in the book, that I won't tell you about, that really sparked my interest as a psych student. You'll have to figure out what it is for yourself, if you read the book. It has something to do with the awesome plot twist!
"Everything's a risk. Not doing anything is a risk. It's up to you."