This month was a busy one, my classes started and with it piles of homework and reading I had to do. It has also been a big change in my life, because I moved out and I am now living in a student house with two lovely people. And above that I started the Blogger's house cup which is a lot of fun.
What I read this month:
1984 by George Orwell ★★★ 
This book I picked up because it was on my dad's shelf and I thought it would be interesting. I read Animal Farm for my English class a few years ago and that was really good too. Anyway, the book was really interesting, but also very slow and quite boring at some points. Especially the parts from some other book were really uninteresting. I skipped those.
The Heart of Betrayal by Mary E. Pearson ★★★★ 
Lia is one of my favourite characters of all time, I love her and I love the series. I am currently reading the third book in the series and it's so good! I would recommend the Remnant Chronicles to anyone! (also the audiobooks are all on youtube so if you like audiobooks, give it a go!)
Harry Potter and the Philosopher's Stone by J.K. Rowling
 ★★★★
I reread this book, and I LOVED it the first time, but the second time was a little less. Still really good though!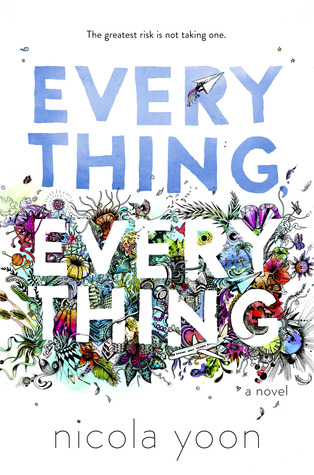 Everything, Everything by Nicola Yoon ★★★★★
I loved this book, it was so original and I read it in less than a day. So addictive! I wrote a review here.
The Distance from Me to You by
Marina Gessner ★★★☆ 
I think this deserves a 3.5 star rating. I really enjoyed the book but the ending was a bit anti-climactic. The book build up from a sort of constant speed to a lot happening and a lot of tension and then the end it was like "we're out of pages let's just finish it right now". Also it was not a happy ending, and not a sad ending but more an okay ending? It kinda ruined it for me.
This book would be an amazing movie!
Persuasion by Jane Austen ★★★☆ 
I quite enjoyed it but not as much as I enjoyed Pride & Prejudice. It took me a while to get through it. I loved how Anne, the main character, is a lot like me. I feel like we're almost the same person.
Amy & Roger's Epic Detour by Morgan Matson ★★★☆
I didn't love it as much as I loved Since You've Been Gone, but considering that I was still reading it at night until 1 am it was pretty good 🙂
What I will read next month:
 I am not yet sure what I will read but it will definitely include: Northanger Abbey by Jane Austen, Shadow and Bone by Leigh Bardugo and The Beauty of Darkness by Mary E. Pearson. You can find what else I might read
here
.
What I wrote this month: 
Bookish related:
What were my favourite books I read in August
A letter to Marguerite from Ten Thousand Skies Above You (The Firebird Trilogy)
A letter to Cinder from Winter (The Lunar Chronicles)
The "I am the reader" Tag about me being a reader
A letter to Ort from That Eye, The Sky
Ten of my favourite contemporary books
A letter to Day from Legend
Ten songs that I love and fit perfectly with these books
A library book haul
My first time doing WWW Wednesday, what was I reading?
A review of Everything, Everything
Ten books on my Fall TBR
WWW Wednesday: Help me decide what to read next
Book Travelling Thursday: what is my favourite cover for Every Day
Not bookish related:
TV show recommendations
About my new blog theme!
Five very happy quotes
About the first task from the Bloggers' House Cup
A blog update
New songs I love
About the Milgram Experiment (shocking and fascinating)
Quotes about hope
I marked the posts I enjoyed writing most. I hope you had an amazing month, what did you read, do and write?