There are so many books I haven't read yet but need to read! One thing that always makes me want to read a book is LGBT+ representation or diversity in general, and I've read a lot of those already, but I always want more! So here are 4 books that are on my TBR that are queer and I really want to read. There are of course more on my TBR than only these ones so let me know if you'd like a part 2 of this post!
Somehow this post turned into a bi-rep post but hey, I like that!
We Go Forward by Alison Evans
This is an indie book, and I've been wanting to read it since I first heard about it! It has an aro-ace main character and I have not read much of those yet. I might read it during IndieAthon if I have more space left on my TBR (it's already huge I think)
Christie travels to run, to forget. She has no place to call home, but desperately wishes she did.

Roslyn has never been overseas and fears getting stuck in one place. If she's never left Melbourne, how does she know that's home?

A crossing of paths in Berlin, wine, and wifi leads to the two traveling together, and as they travel the two find some things they were looking for, and maybe something they weren't…
LGBT+ representation: bisexual, aromantic-asexual
Queens of Geek by Jen Wilde
This book has gotten so popular and I've been wanting to read it for so long, but I just haven't! Somehow I never seem to get to it, though I've been really interested in it! I need to find myself a copy soon! (I mean, the word feminist is enough to make me read any book)
Three friends, two love stories, one convention: this fun, feminist love letter to geek culture is all about fandom, friendship, and finding the courage to be yourself.

Charlie likes to stand out. She's a vlogger and actress promoting her first movie at SupaCon, and this is her chance to show fans she's over her public breakup with co-star Reese Ryan. When internet-famous cool-girl actress Alyssa Huntington arrives as a surprise guest, it seems Charlie's long-time crush on her isn't as one-sided as she thought.

Taylor likes to blend in. Her brain is wired differently, making her fear change. And there's one thing in her life she knows will never change: her friendship with her best guy friend Jamie—no matter how much she may secretly want it to. But when she hears about a fan contest for her favorite fandom, she starts to rethink her rules on playing it safe.
LGBT+ representation: bisexual
Little & Lion by Brandy Colbert
This one is not as well-known as Queens of Geek but I think it has the same potential to become a new favourite as Queens of Geek! There's so much diversity and representation in this book, not just LGBT+, but also racial diversity and mental health issues. It sounds like one of those heavy but not too heavy books, like there are difficult topics discussed but the story isn't too heavy? Idk.
When Suzette comes home to Los Angeles from her boarding school in New England, she isn't sure if she'll ever want to go back. L.A. is where her friends and family are (along with her crush, Emil). And her stepbrother, Lionel, who has been diagnosed with bipolar disorder, needs her emotional support.

But as she settles into her old life, Suzette finds herself falling for someone new…the same girl her brother is in love with. When Lionel's disorder spirals out of control, Suzette is forced to confront her past mistakes and find a way to help her brother before he hurts himself–or worse.
LGBT+ representation: bisexual/questioning, lesbian
Furyborn by Claire Legrand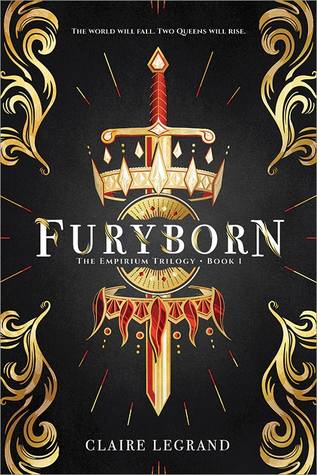 I feel like I've talked about this book so often and yet, I haven't read it. I've got an eARC I'll read somewhere in the next couple of months. AND NOBODY TOLD ME THIS HAS QUEER REP, I'm disappointed in you guys (just kidding). I'm excited for this book but I'm also scared. It looks so intimidating and huge, and high fantasy isn't usually my cup of tea (help).
When assassins ambush her best friend, the crown prince, Rielle Dardenne risks everything to save him, exposing her ability to perform all seven kinds of elemental magic. The only people who should possess this extraordinary power are a pair of prophesied queens: a queen of light and salvation and a queen of blood and destruction. To prove she is the Sun Queen, Rielle must endure seven trials to test her magic. If she fails, she will be executed…unless the trials kill her first.

A thousand years later, the legend of Queen Rielle is a mere fairy tale to bounty hunter Eliana Ferracora. When the Undying Empire conquered her kingdom, she embraced violence to keep her family alive. Now, she believes herself untouchable–until her mother vanishes without a trace, along with countless other women in their city. To find her, Eliana joins a rebel captain on a dangerous mission and discovers that the evil at the heart of the empire is more terrible than she ever imagined.

As Rielle and Eliana fight in a cosmic war that spans millennia, their stories intersect, and the shocking connections between them ultimately determine the fate of their world–and of each other.
LGBT+ representation: bisexual
Are any of these on your TBR? Or have you read one or more of these perhaps? Any fantasy with queer rep I should read, since I found it hard to include LGBT+ fantasy? What LGBT+ books are on your tbr?