I am really late with both of these reviews because the books are already out. So I'm doing two mini reviews! Both books couldn't be more different, The Witch Doesn't Burn in This One by Amanda Lovelace is poetry and Sneaking out is YA murder/mystery.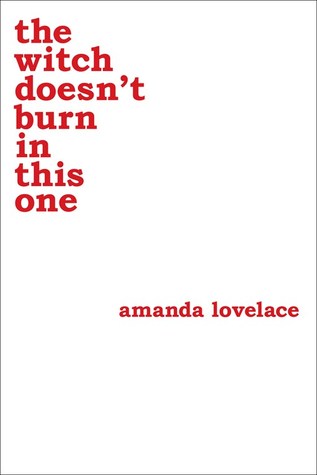 The witch: supernaturally powerful, inscrutably independent, and now—indestructible. These moving, relatable poems encourage resilience and embolden women to take control of their own stories. Enemies try to judge, oppress, and marginalize her, but the witch doesn't burn in this one.
Having read Amanda Lovelace's first book, The Princess Saves Herself in This One and really enjoyed it, I was really looking forward to this new collection. Sadly, it didn't quite do it for me. I loved some poems but overall, it just didn't work for me. I can't help but compare it to The Princess Saves Herself in This One and that one was so much more emotional to me. This collection was also emotional, but it was mainly angry. And that's just a personal thing of mine, but anger just makes me distance myself. That's probably why it didn't make me feel empowered at all, it just made me shrug and continue with life.
Some poems, I thought, went a bit too far. The book is about rape and at one point there were some poems suggesting murdering rapists and that just doesn't sit right with me.
Overall, there were quite a few poems that I liked in this collection, but it just wasn't for me. I think other people might enjoy this book way more and poetry is always just a personal thing to everyone. I'm giving this book 3 stars.
"women
don't endure
simply because
we can;

no,

women endure
because we aren't
given any other
choice.

– they wanted us weak but forced us to be strong."
Could you sleep next to a murderer?
Luke Chase—yes, that Luke Chase, a modern hero ripped from the headlines—didn't mean to get caught up in Mrs. Heckler's murder. He just wanted to hook up with the hot new British girl at St. Benedict's, and if that meant sneaking out to the woods after hours, then so be it. But little did he know someone would end up dead right next to their rendezvous spot, and his best friend and roommate Oscar Weymouth would go down for it. With suspects aplenty and a past that's anything but innocent, Luke Chase reluctantly calls on his famous survival skills to find the true killer.
Sneaking out is also a book that is quite outside my comfort zone. I don't usually read murder/mysteries, but this synopsis intrigued me (okay and also the cover… :P). I really enjoyed this book, the characters were great. I especially liked the girl (whose name I forgot), but Luke was also really interesting. They had interesting personalities and I loved the group dynamics. Since the book is about a woman being murdered at a boarding school, there's quite a lot of mystery involved. I immediately got intrigued by the strange death and it got me hooked, I really wanted to know who had done it and why. As I normally don't read these kinds of books, I don't know whether it's just something I'm not used to, but I thought there were a little too many suspects and clues for me to keep up with. I'm not that good with remembering names, and that definitely got me confused at times while reading this.
I think this book was a lot of fun, and it got me interested to go outside of my comfort zone more often. I'm giving this book 4 stars because it was really enjoyable! I definitely recommend this book if you like to read YA murder/mystery or if you want to read something outside of your comfort zone.
"With all due respect, sir, I've learned that the only person I can have faith in is myself." And with that, he walked out the room.